GRADUATE STUDENTS
Robert Devine (PhD, expected 2020)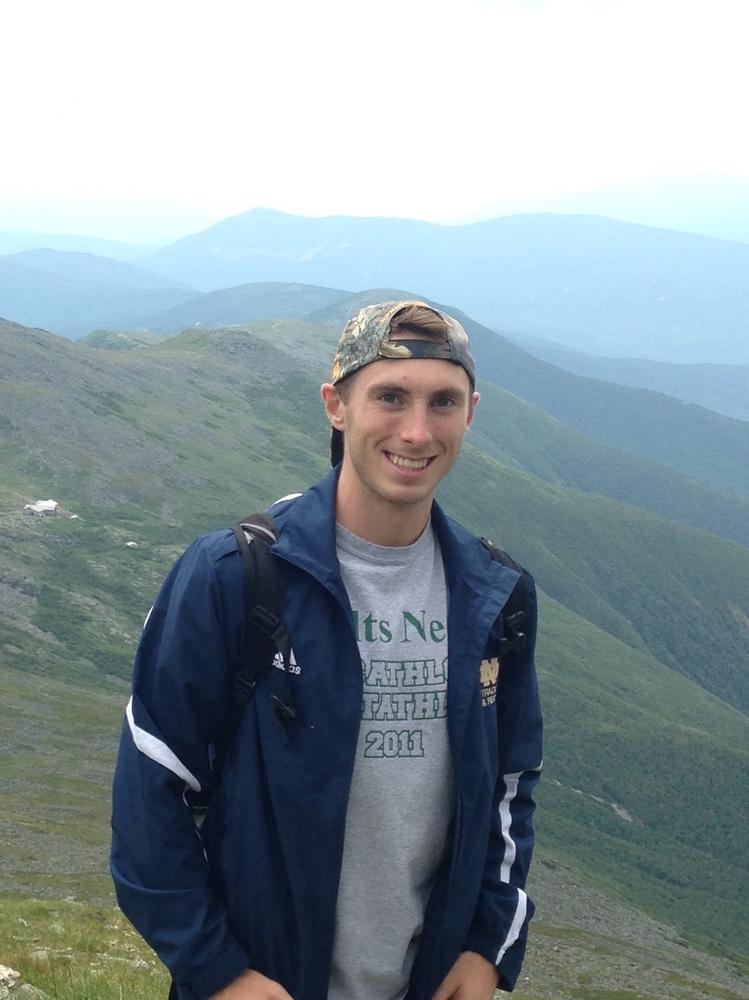 My name is Rob Devine, and I am a graduate student at Notre Dame co-advised by Dr. Thrall. My interests are in Structural Engineering specifically in novel reinforced concrete design. Advised by Dr. Kurama and Dr. Thrall, my research will be on new design methodologies of reinforced concrete structures focusing on sustainable materials. I completed my undergraduate studies at Notre Dame as well, graduating from the Civil and Environmental Engineering and Earth Sciences Department in the spring of 2015. While an undergraduate, I did research advised by Dr. Kurama on the Adequacy of Recycled Concrete Aggregates in Prestressed Concrete.
While an undergraduate at Notre Dame, I was a member of the varsity Track and Field team for my first three years and I participated in Bengal Bouts, th,e largest collegiate amateur boxing tournament in the country. In my free time I continue to run and box and have aspirations of completing a triathlon. I also enjoy mountain climbing, football, and trying new foods. For my undergraduate research under Dr. Kurama, I was awarded the Gibran Kareem Undergraduate Research Prize. Also, I am a Richard and Peggy Notebaert Fellow, as awarded by the Graduate School of Notre Dame. I am excited to continue my career at Notre Dame and pursue my interests in Structural Engineering.
Evan Gerbo (PhD, expected 2019)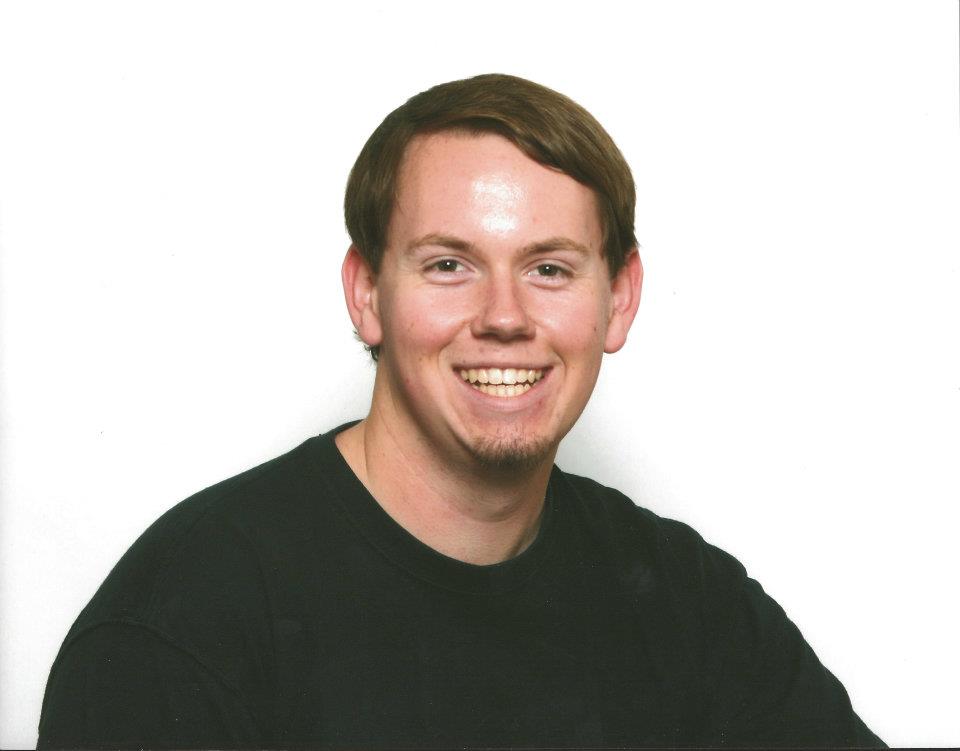 My name is Evan Gerbo and I am a graduate student at the University of Notre Dame. I am currently pursuing a PhD in Civil Engineering with a specialization in Structures. My research at Notre Dame will focus on deployable bridges for use in disaster relief efforts. I spent the last 5 years earning my Bachelor's and Master's degrees in Architectural Engineering at California Polytechnic, San Luis Obispo. Cal Poly's "Learn by Doing" motto strengthened my desire to physically construct my designs myself, ensuring functionality and quality. My interests within structural engineering involve seismic design and analysis, funicular cable and shell structures, and optimization using genetic algorithms.
From the time I was little I have loved to learn how the world works, and primarily focused on structural and mechanical systems such as cars and motorcycles. I am originally from Placerville, a small rural town in Northern California. I was lucky to have access to a shop full of tools, plenty of space and raw materials allowed me to learn construction and mechanical skills from an early age. I spend my free time tinkering with cars, motorcycles and occasionally computers. I am looking forward to combining my passions for structural and mechanical engineering at Notre Dame in the coming years.
Anne O'Donnell (PhD, expected 2023)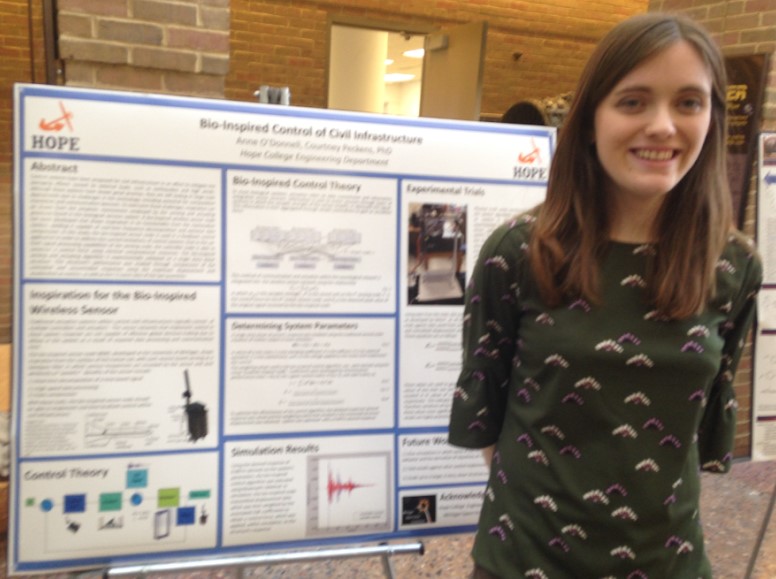 My name is Anne O'Donnell, and I am a graduate student in the Kinetic Structures Laboratory (KSL) at the University of Notre Dame co-advised by Dr. Thrall and Dr. Kurama. I am honored to be a Richard and Peggy Notebaert Fellow, as awarded by the Graduate School. My research at Notre Dame will explore my interests in both reinforced concrete and steel design. This research is supported by the Precast/Prestressed Concrete Institute (PCI) and am I very honored to be a PCI Daniel P. Jenny Research Fellow. I carried out my undergraduate studies at Hope College which is located in Holland, MI, where I graduated with a degree in mechanical engineering with minors in mathematics and writing.  While at Hope I was awarded the Sigma Xi research award, as well as two distinctions for a commitment to sustainability, for research I performed on a civil engineering project involving bio-inspired control techniques. At Hope, I was also chosen by my peers to receive the Paul Baeverstad Department Award.

I am originally from Royal Oak, MI, a suburb of Detroit, and some of my hobbies include running, drawing, photography and writing. Growing up in Detroit I came to fall in love with buildings from the architecture of historic districts which I combined with a fascination and aptitude for theoretical and applied mathematics to pursue a career in structural engineering. The historic neighborhoods of Detroit also face infrastructure failure and there is a great need for humanitarian effort within the structural engineering community. This is what drew me to the work of KSL, where research activities led by Dr. Thrall always considers the greater impact of the project.  As an undergraduate, I also performed research in astrophysics. My love of math initially drew me towards physics before I found a career path to combine two of my passions, but as a result have an interest in the structural elements of aerospace engineering and how the two fields intersect. I look forward to working with Dr. Thrall and all the members of the KSL as I pursue a degree that will not only deepen my understanding of how structures behave, but develop a set of skills to create innovative solutions to preserve historic structures and design structures for the future. 
Mirela Tumbeva (PhD, expected 2019)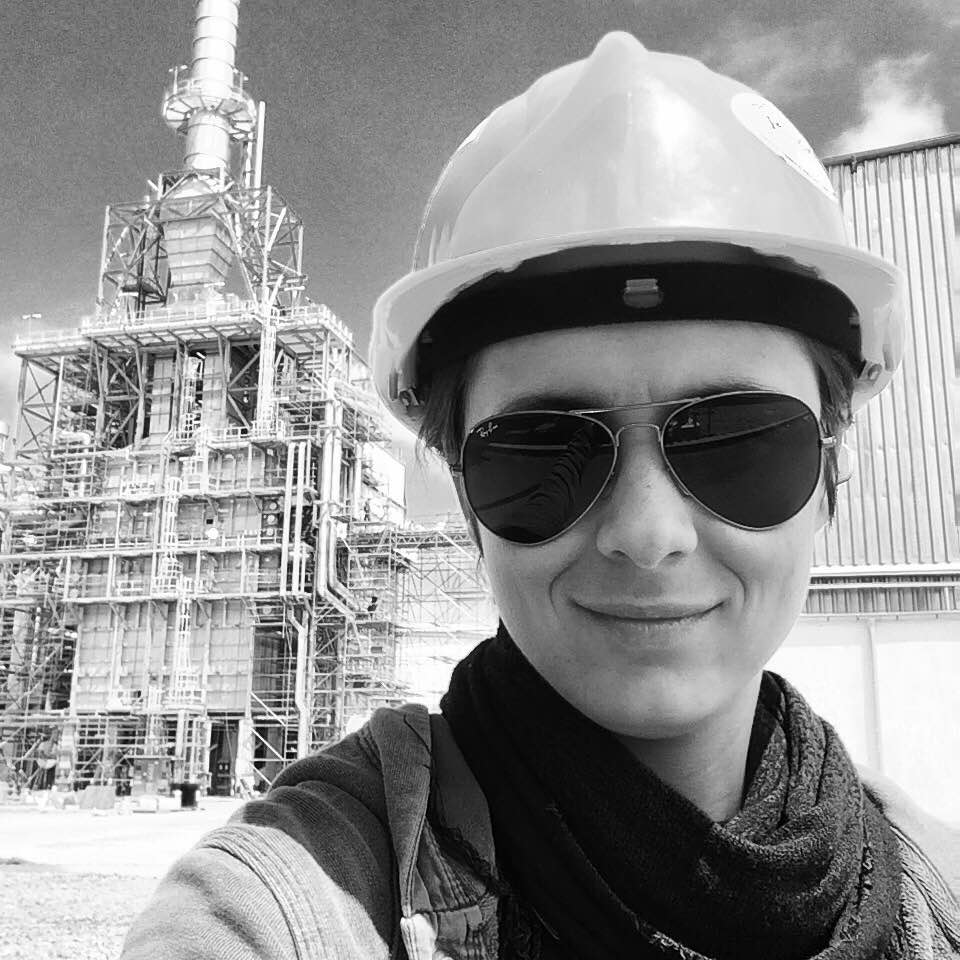 My name is Mirela Tumbeva and I am from Bulgaria. I am a graduate student at the University of Notre Dame, specializing in Structural Engineering. I have a master degree in Civil Engineering. For two years, I had been part of two projects in my home country, participating as a field supervisor. Though, I enjoyed working on a big construction site and having the chance to meet people form all over the world, I believe Notre Dame and the Kinetic Structures Laboratory are the right place for me at this stage of my life.
Yao Wang (PhD, expected 2019)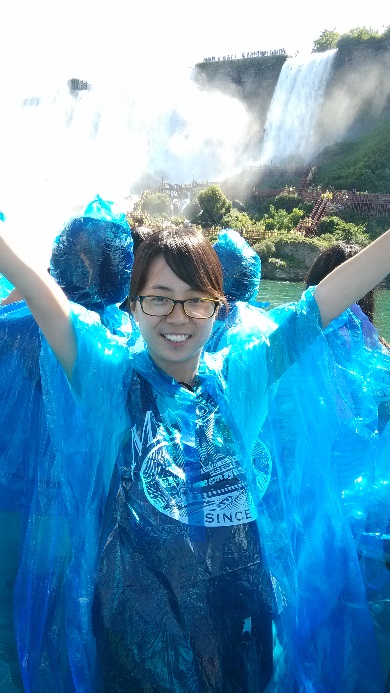 My name is Yao Wang. Now I am a PhD student at the University of Notre Dame. In the past one year, I studied and worked as a teaching assistant at the State University of New York at Buffalo (UB). I am really grateful for the experience in UB since I've learned a lot there. Then I transferred to the University of Notre Dame since Dr. Thrall's research field best matches my research interest. Furthermore, The University of Notre Dame gives the perfect environment for studying and doing research and I really enjoy the life here. Before coming to the US, I earned my bachelor degree and master degree in civil engineering from Harbin Institute of Technology (HIT), China.
I grew up in Yuanping, a small city in China which is famous for its flour food diet culture. Thus I myself am interested in cooking. During the leisure time, playing yoga and listening to music are the favorite things that I would prefer to do since health always comes first.
UNDERGRADUATE STUDENTS
Claire Gasser (BSCE, expected 2020)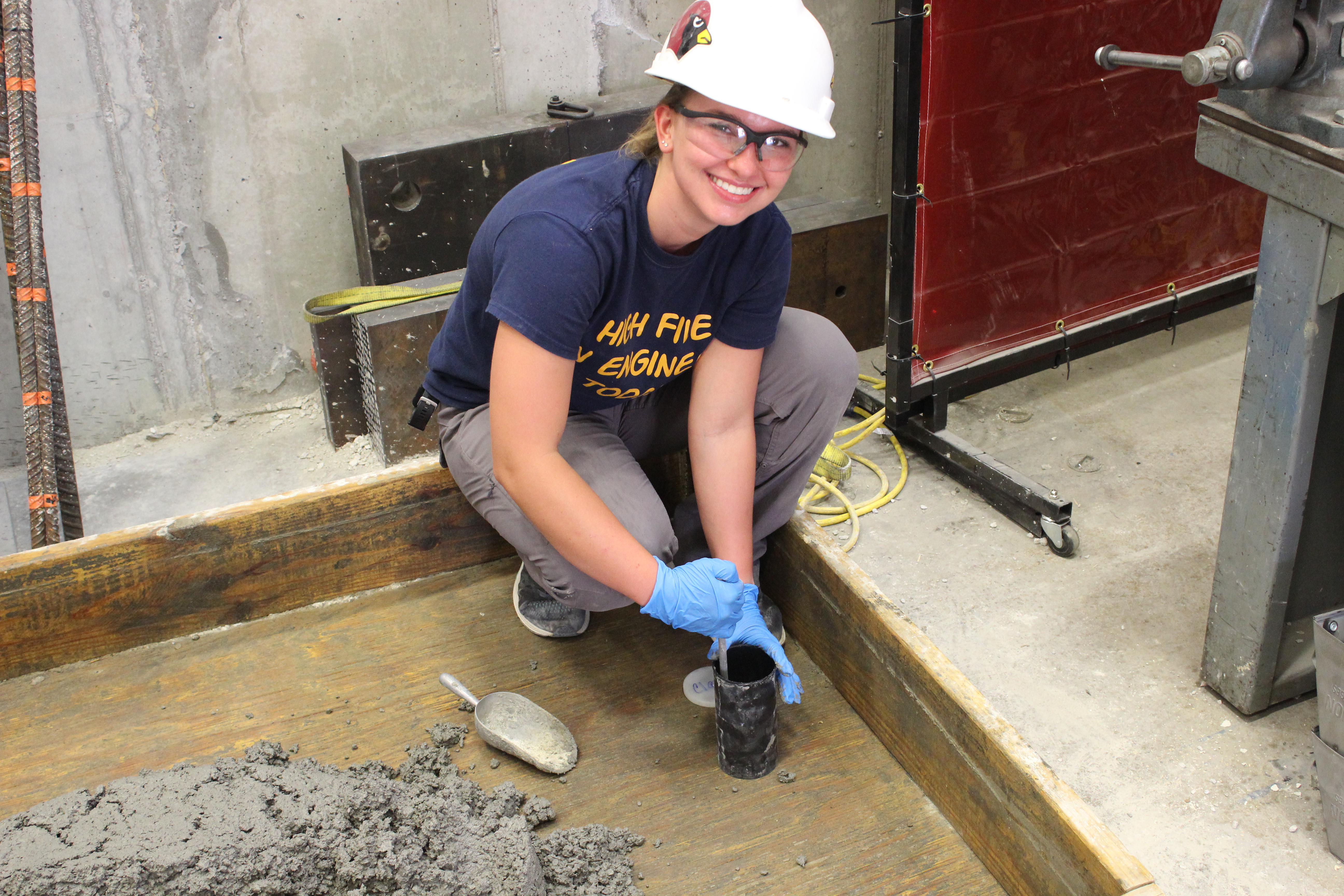 My name is Claire Gasser, and I am a junior civil engineering student at the University of Notre Dame. I am excited to contribute to the Indiana Department of Transportation project evaluating load shed to bridge rails under the direction of Dr. Thrall. Previously, I worked as an undergraduate research assistant under the direction of Dr. Kurama and Dr. Thrall on a Department of Energy funded project examining potential benefits of high-strength rebar and high-performance concrete to reduce field construction time and fabrication costs of concrete shear walls for nuclear structures. I was awarded a grant funding from the Flatley Center for Undergraduate Scholarly Engagement to continue my work on the project through the summer of 2018. I am also a recipient of the Peter E. and Catherine R. Getchell Foundation Scholarship.
I am from Nokesville, Virginia, which is about an hour outside of D.C. In my free time, I serve as the treasurer for my dorm, and I am also a captain on Notre Dame's Steel Bridge team. I developed a fascination with structures in middle school, when an overpass was being constructed along the route my mom drove me to school. Since we drove by every day, I was able to watch the gradual progress on the construction of the overpass, which opened my mind to the idea that even things my younger self thought of as permanent, such as buildings and roads, were once designed and built, and could be modified and improved. I hope to pursue a concentration in structures so that I can be involved in projects that address problems relating to the structures people use every day from a design perspective, helping to improve safety of our bridges and the efficiency and aesthetics of the structures that contain our home and work spaces.
Camila Gonzalez Flores (BSCE, expected 2020)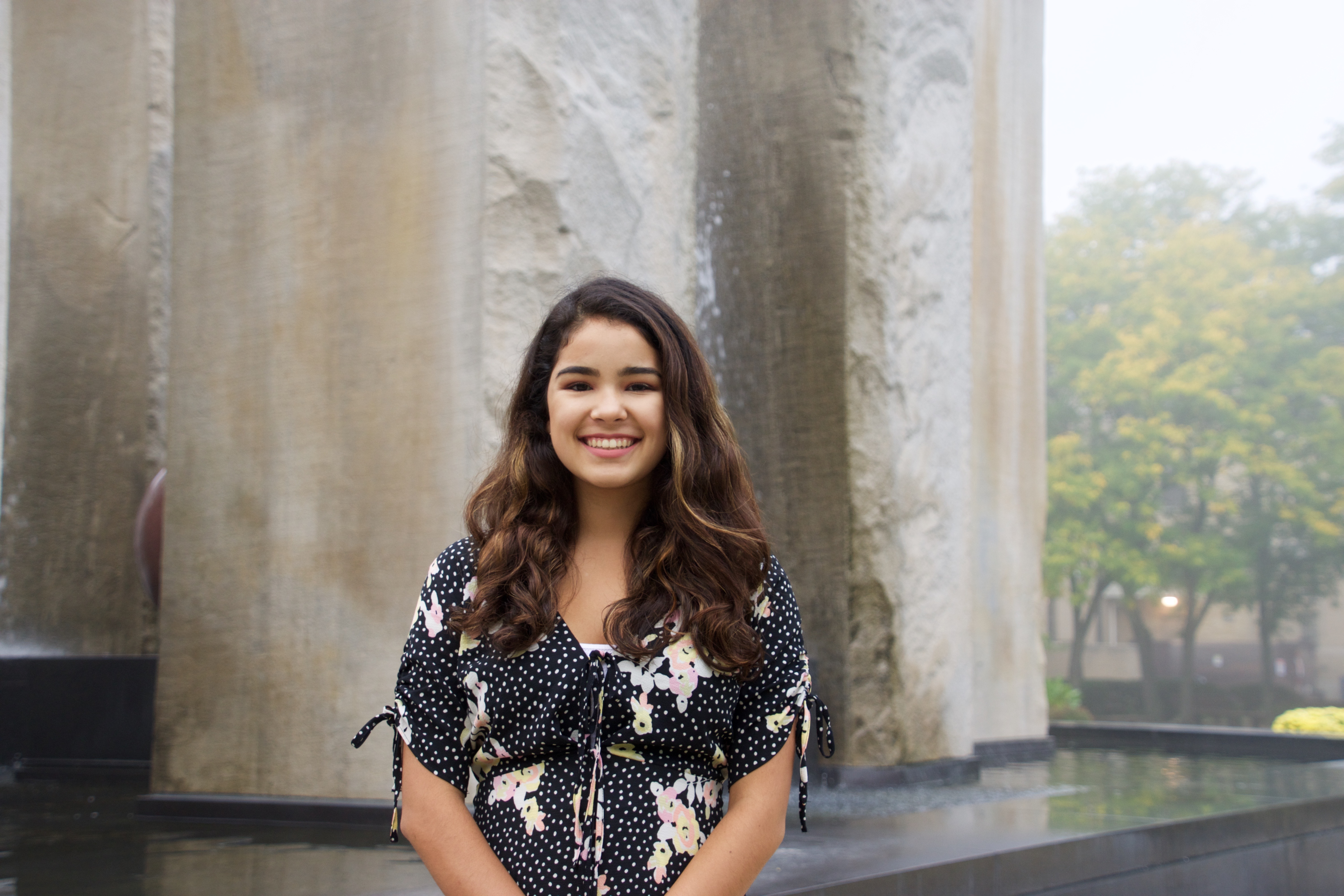 My name is Camila Gonzalez Flores, and I am a current junior studying civil engineering with a minor in Resiliency and Sustainability of Engineering Systems. I was born and raised in Mexico City but have moved around the U.S. ever since I was 11. At Notre Dame, I have had the chance to participate in civil engineering initiatives that benefit the developing world through research and engineering. My sophomore year, I was selected to participate on an eight person team, solely responsible for designing, fundraising, and building a 93-meter pedestrian bridge in a rural community in Bolivia. This year, I have formed part of Project Ricardo, an initiative that strives to find water sanitation and availability solutions in Arcabuco, Colombia. I am passionate about engineering for the good of humanity and believe that basic infrastructure such as access to clean water is a human right. I see engineering as an opportunity to empower communities and demand higher water quality standards as well as higher living conditions.
Through the opportunities Notre Dame has granted me, I have learned to expand my civil engineering education beyond the classroom. As a continuation, I look forward to working under guidance of Dr. Thrall on a project that examines load shedding on bridge rails through the Indiana Department of Transportation.
ALUMNI
PhD Students:
Alexis Tugilimana (PhD, 2018)
Job Placement: Kabandy (Brussels, Belgium)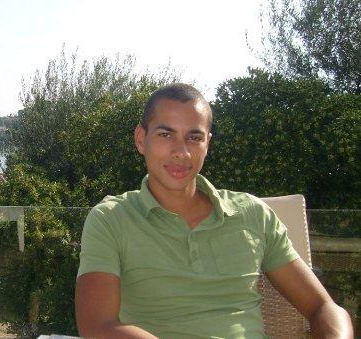 I am Alexis Tugilimana and I am a graduate student from the Universite Libre de Bruxelles since 2014, in which I am actually pursuing a PhD co supervised by Dr. Thrall. My researches focus on the topology optimization of lightweight modular structures under uncertainties.
I grew up in Ath, a small Belgian town situated in the south west of Bruxelles. After my secondary studies, I started studying industrial engineering at the Institut Superieur Industriel in Mons, specialized on buildings and civil engineering. This multidisciplinary formation generated a large interest on the practical dimension related to the civil engineering, i.e. the different techniques of conception and the management of the organization for a practical project. I developed in parallel a large interest in Physics and Mathematics, through my passions related to astronomy, cosmology and astrophysics, which aroused my curiosity to physically understand, as much as possible, the phenomena occurring all around me. This curiosity pushes me to undertake a second master of sciences in civil engineering at the Universite Libre de Bruxelles. The latter, being more theoretical, allowed me to discover new fields of interest in civil engineering such as the numerical analysis, the finite element analysis and the structural optimization.
Lara Alegria Mira (PhD 2014)
Job Placement: Nomad Consulting (Brussels, Belgium)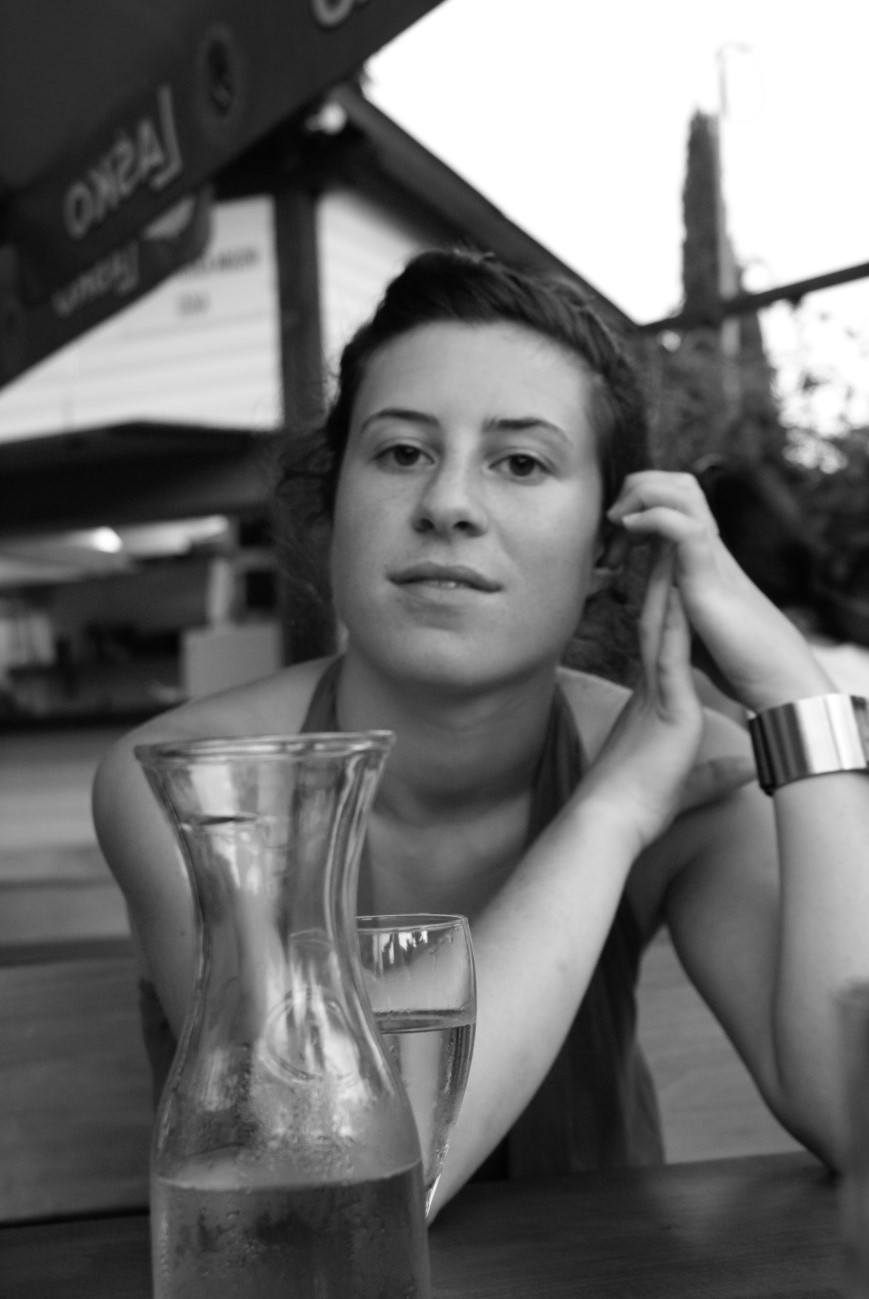 My name is Lara Alegria Mira and I graduated in 2010 at the Vrije Universiteit Brussel (VUB) in Belgium as a structural engineer. As a member of the TRANSFORM research group at the architectural engineering department of the VUB, I am pursuing a PhD. The focus of my research lies on deployable scissor structures for temporary and mobile shelters.
I was lucky to meet Dr. Thrall during the Structural Morphology Seminar, performed under the direction of the International Association for Shell and Spatial Structures (IASS) in September 2011. Since then, our common research interest in transformable and deployable structures has led to interesting and fruitful collaborations, conference and journal publications. Due to a travel grant I had the opportunity to travel to the University of Notre Dame, where I stayed for 5 weeks (June 2013) and worked under the guidance of Dr. Thrall on the subject of structural optimization of scissor structures. It was a great experience!
What I was already encountering off the record, we made official by assigning Dr. Thrall as my co-supervisor of my PhD research.
MSCE Students:
Casey Casias (MSCE 2015)
Job Placement: Gebau Consulting Structural Engineers (Boulder, CO)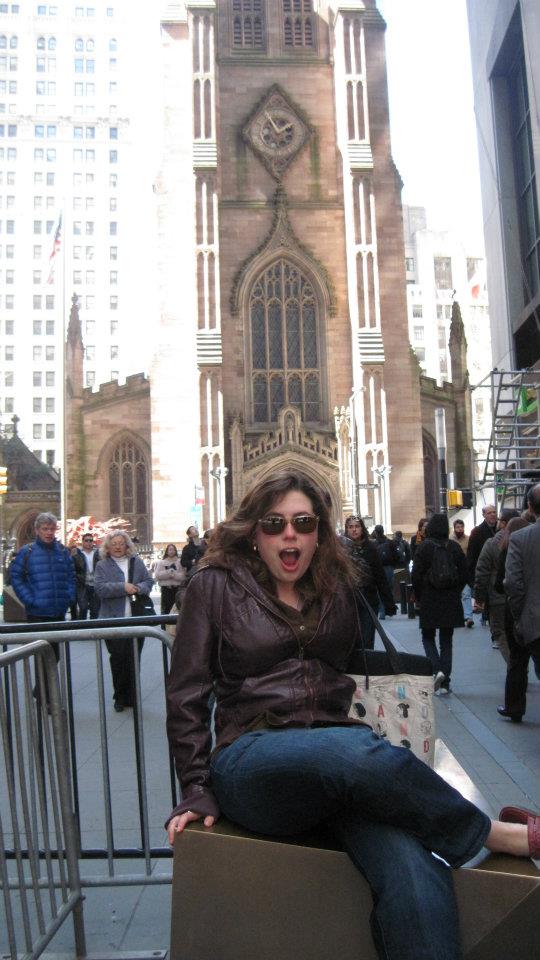 Casey Casias attended the University of Colorado at Boulder, where she attained her undergraduate degree in architectural engineering. Afterwards, she came to the University of Notre Dame, where she earned her Master's degree from the Kinetic Structures Lab in 2015. She is currently a project engineer with Gebau, Inc. in Boulder, Colorado, where she works primarily in residential structural design.
When not engineering, Casey enjoys cycling, rock climbing, and baking. She learned a great deal while at Notre Dame, and is extremely grateful for the experience.
Chad Quaglia (MSCE 2014)
Job Placement: HNTB Corporation (New York City, NY)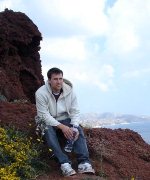 My name is Chad Quaglia, and I have graduated from the University of Notre Dame with my masters degree in structural engineering. My research at Notre Dame focused on movable/deployable shelters for military and disaster relief applications. I come from a family of four, and I was born and raised in East Bridgewater, Massachusetts which is about a half hour south of Boston. I am a graduate of the University of Massachusetts Amherst where I earned a Bachelor of Science in Civil and Environmental Engineering. I have known for a very long time that I have a passion for math and science as well as an aptitude for being creative, curious, analytical, and detail oriented. Since I was a very young child I have enjoyed building Legos and K'nex by following designs as well as creating my own work. I am fascinated by the useful inventions that have been created by simply using scientific principles and the materials and forces which are found in everyday nature. During my time at Notre Dame, I was able to help invent a novel deployable shelter using well known engineering principles which led to a very fulfilling masters experience. In the next chapter of my life, I will be starting my professional career designing complex bridges in NYC for the HNTB Corporation, for which I am extremely excited! I am very thankful for my experience at Notre Dame and my advisor, Dr. Thrall, in particular for the guidance given me in becoming a well rounded and well prepared structural engineer.
Brittani Russell (MSCE 2013)
Job Placement: Building Tomorrow (Uganda)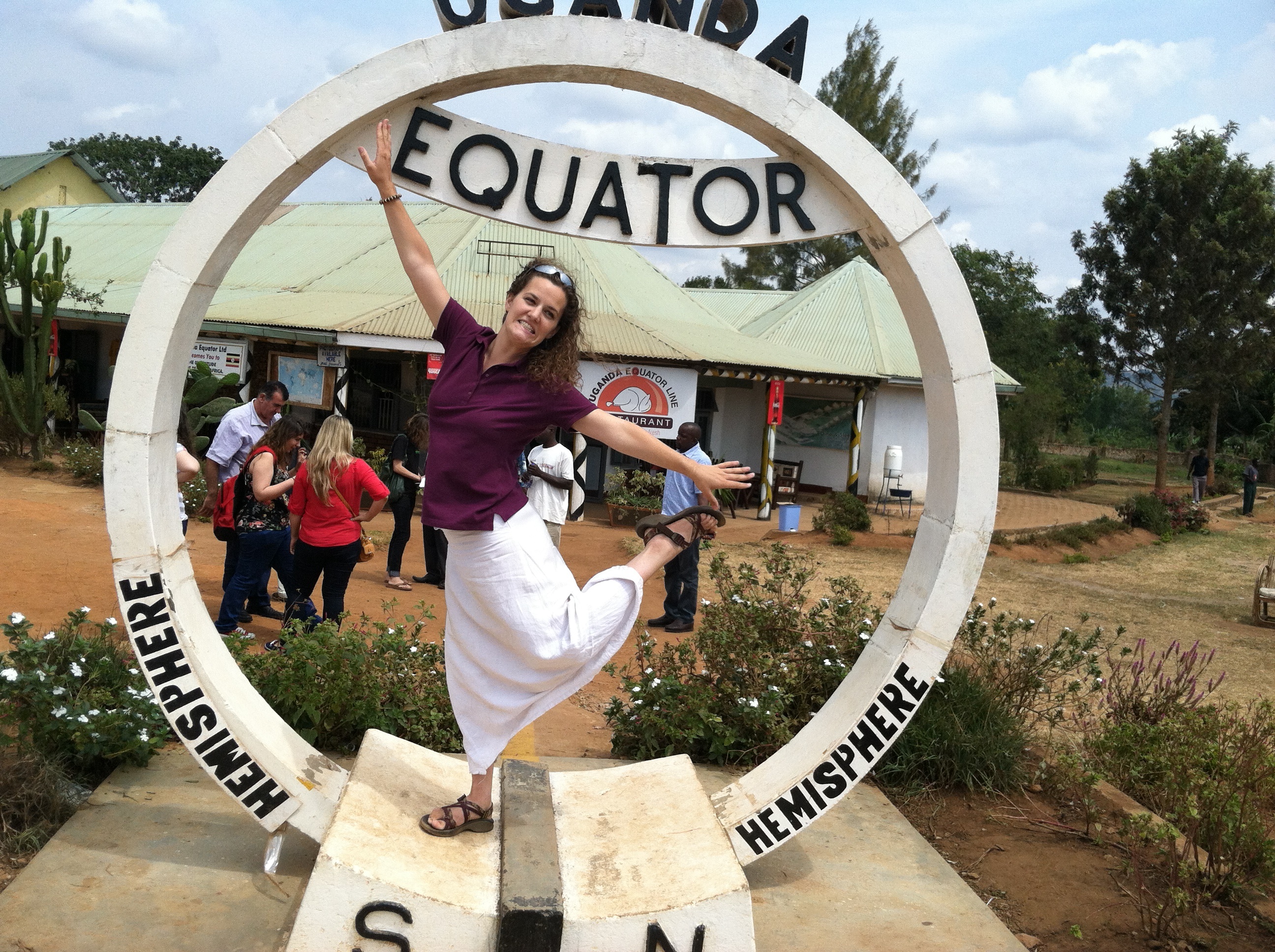 After six glorious years at the University of Notre Dame I have joined the ranks of Double Domers with both my undergraduate and masters degrees in structural engineering. Having had the opportunity while at ND to travel to several developing countries I can truly appreciate the difference that civil engineering can have on the everyday lives of so many people throughout the world. As a result I have attempted to focus my knowledge of engineering towards this goal, both during my academic career and afterwards. As an undergraduate I served on a team of seven civil engineering students who designed, fund-raised, and traveled to Nicaragua to construct a 125 meter footbridge for a community in need. My masters research with Dr. Thrall focused on developing deployable bridges for disaster relief and military applications. And now, after surviving six South Bend winters (which I actually did enjoy!) I find myself in the warmer climate of Uganda. I am working with Building Tomorrow as their Engineer in Residence to help construct primary schools around the country for children who have never had access to formalized education in their lives.
Undergraduate Students:
Angelene Dascanio (BSCE 2015)
Graduate School Placement: University College Dublin (Naughton Fellowship), Stanford University
Max Ducey (BSCE 2016)
Job Placement: Chicago Bridge & Iron
Molly Phillips (BSCE 2018)
Job Placement: Deloitte
Spencer Ness (BSCE 2014)
Job Placement: Troyer Group (Mishawaka, IN)
John (Jack) Reilly (BSCE 2014)
Graduate School Placement: Princeton University
Mark Solorio (BSCE 2013)
Graduate School Placement: Stanford University
Madalyn (Maddy) Sowar (BSCE 2016)
Job Placement: Army Corps of Engineers
Postdoctoral Research Associates:
Steve Barbachyn (2015-2018)
Zach Ballard (2013-2015)
Job Placement: University of Vermont, Teaching Faculty
Francisco Martinez-Martin (2012-2013)
Job Placement: Mecanotubo Construction (Spain)